Rachel Getting Married
My Review:
Rachel Getting Married stars Anne Hathaway as a young woman fresh out of rehab who returns home for her sister's wedding.  Anne Hathaway does a great job in this role, she successfully sheds her "princess" persona and gets really raw and real with her emotions.  Jonathan Demme directs.  The good parts about the movie are the wedding itself, it's not traditional in any way, and the family is not traditional either.  They're an interesting group of people.  But the downside is that the family, and the story, is full of dysfunction.  And that's not a great movie-going experience.  The other problem is the camera work.  It's mostly shot in an informal hand-held style.  It's distracting on the large screen.  And there's a lot of time when the plot is just not moving forward.  It's a very long movie, and if about 15 minutes of this downtime were cut out I think it would have been much better.
---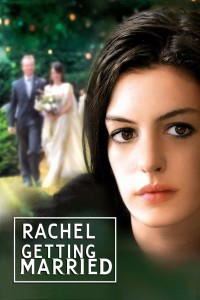 Rachel Getting Married
- -
---
---
A young woman who has been in and out from rehab for the past 10 years returns home for the weekend for her sister's wedding.
Photos
Storyline
---
Details
Box Office
Company Credits
Technical Specs