Quantum of Solace: 007
My Review:
Daniel Craig stars in his second installment as James Bond, agent 007.  This movie is a sequel, and really a continuation, of the first one, so it does help to have that background.  Lots of action – one chase scene after another.  He's still a rough-around-the-edges James Bond – and there are some scenes that give a wink and a nod to that – like when a bartender teaches him to make a martini "shaken, not stirred."
The Bond girls in this one are particularly strong – score one for the girls!
---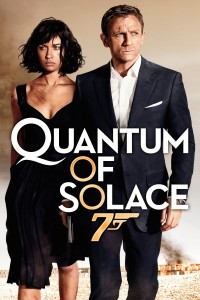 Quantum of Solace
- -
---
---
Quantum of Solace continues the adventures of James Bond after Casino Royale. Betrayed by Vesper, the woman he loved, 007 fights the urge to make his latest mission personal. Pursuing his determination to uncover the truth, Bond and M interrogate Mr. White, who reveals that the organization that blackmailed Vesper is far more complex and dangerous than anyone had imagined.
Photos
Storyline
---
---
Details
Box Office
Company Credits
Technical Specs