Pirates of the Caribbean: At World's End
My Review:
This is the third Pirates movie – not as good as the first, but better than the second.  I think when you get to the second sequel the production team is trying to outdo themselves, to always go bigger and better.  But the problem is that bigger isn't always better, sometimes it's just BIGGER!  And louder.  And longer.  Pirates #3 is just too big, too loud, and too long.  And with all this going on, it's a little confusing – some of the characters are difficult to understand, I was looking for subtitles.
But the movie has a few things going for it.  It's worth it just to see Johnny Depp.  And then Keith Richards comes in as his pirate dad, hillarious!  And Keira Knightley is such a strong role model for girls – she actually becomes the pirate KING at one point – you go, girl!
There's also the recurring theme that I've seen in a lot of movies where the bad guys are the good guys – the pirates are the ones with the code of honor, whose word means something.
The movie broke all kinds of records opening weekend and they're already talking about #4… what else can they do?
---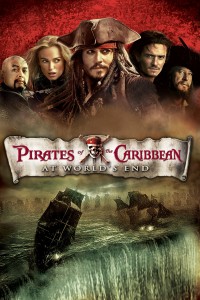 Pirates of the Caribbean: At World's End
- -
---
---
Captain Barbossa, long believed to be dead, has come back to life and is headed to the edge of the Earth with brave Will Turner and feisty Elizabeth Swann. And what of Jack Sparrow? Nothing is as it seems.
Photos
Storyline
---
---
Details
Box Office
Company Credits
Technical Specs