Penelope
My Review:
Penelope is a modern day fairy tale.  Penelope (Christina Ricci) is a young girl who is the victim of a family curse from generations past.  She is born with the nose of a pig. Her mother hides her away from society until she comes of marrying age.  The curse says that when someone of her kind (upper crust blue blood) falls in love with her, the curse will be broken and she'll look like an average girl.
Mom hires a matchmaker, and the boys come parading in – Penelope hides, but when the guys catch wind of what's up, they flee quickly.  A crafty journalist smells a story, and the stalking begins.  Max (James McAvoy) becomes a candidate, but does he have what it takes to break the curse?
Reese Witherspoon produced and has a nice role as Penelope's new found friend.  This is a sweet story of love, with wonderful messages.  A must-see for girls of all ages.
---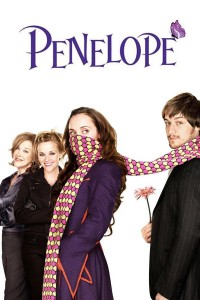 Penelope
- -
---
---
Forlorn heiress Penelope Wilhern is cursed, and the only way out is to fall in love with someone of suitable stock. But how can she find her soul mate when she's sequestered inside her family's estate with only her parents to keep her company. This untraditional fairy tale about a girl who bucks convention to create her own happy ending.
Photos
Storyline
---
---
Details
Box Office
Company Credits
Technical Specs