Parental Guidance
My Review:
It's pretty rare lately to see a family friendly movie in the theater that's not animated.  Parental Guidance is fun, refreshing, charming and delightful!
Billy Crystal is the grandfather.  He's a little afloat when he gets fired from his local sportscaster job.  Bette Midler is the grandmother.  She jumps at the chance to fly over to babysit their three grandchildren for a week while their only daughter, Alice (Marisa Tomei), and her husband take a business trip.
The kids clearly haven't spent much time at all with their grandparents, so it takes some time for everyone to get to know each other and feel comfortable.  The parents have implemented a whole different set of contemporary parenting techniques – and the grandparents have trouble adjusting.  There are the to-be-expected catastrophes that tend to happen in movies like this – and while the adults in the audience probably rolled their eyes (as I did!) the kids in the audience (including my 11 year old Little Sister from Big Bro/Sis) roared!
The relationships become the focus of the film, and each character learns and grows from the experiences they share with one another.
It's really great to see Billy Crystal and Bette Midler up on the big screen again – and together they're even better!  Makes for a fun family day out.
---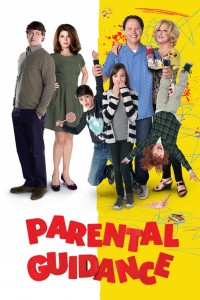 Parental Guidance
- -
---
---
Artie and Diane agree to look after their three grandkids when their type-A helicopter parents need to leave town for work. Problems arise when the kids' 21st-century behavior collides with Artie and Diane's old-school methods.
Photos
Storyline
---
---
Details
Box Office
Company Credits
Technical Specs