Pan's Labyrinth
My Review:
I have to put Pan's Labyrinth up there as one of my most favorite movies of 2006.  It is magical, poignant, lyrical, and intense.  Just be warned, it is rated R, and it is violent, and gory, as an adult fairy tale is meant to be.  And here it is warranted.  There are two parallel stories – one very real about the Spanish Civil War, and the other a fantasy about a little girl attempting to reclaim her title of Princess.  The stories are interwoven beautifully, and the messages are expressed intelligently.  There is much symbolism, from Catholic culture, Celtic and Greek mythology, and nature.
The special effects are all animatronic rather than computer generated, giving the fairies and creatures a much more realistic feel to them.  The acting is superb.  The directing, by Guillermo Del Toro, is amazing.  The man is a genius.
Pan's Labyrinth is Mexico's entry as Best Foreign Film in 2006.  It has received numerous critics awards already, and it the best reviewed movie of the year.  I couldn't agree more. Pan's Labyrinth is ambitious and original – something very rare in cinema today.  I loved it!
---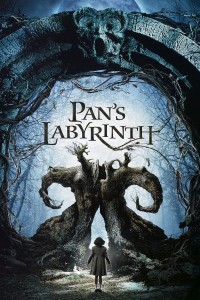 Pan's Labyrinth
- -
---
---
Living with her tyrannical stepfather in a new home with her pregnant mother, 10-year-old Ofelia feels alone until she explores a decaying labyrinth guarded by a mysterious faun who claims to know her destiny. If she wishes to return to her real father, Ofelia must complete three terrifying tasks.
Photos
Storyline
---
---
Details
Box Office
Company Credits
Technical Specs