Ocean's Twelve
My Review:
This is the sequel to the hugely popular "Ocean's Eleven" with it's all-star cast headed up by George Clooney. Brad Pitt is back, and Julia Roberts, Don Cheadle, Elliot Gould, Carl Reiner, and the darling Matt Damon. The theme is the same, the bad guys are the good guys, we're rooting for the criminals. But it's all in fun. This time around we're in Europe, rather than Vegas, and we get a glimpse of George Clooney's house on beautiful Lake Como. Pretty swanky, George!
This is just a fun, caper movie. It's full of holes, but who cares? You kind of feel like you're one of the gang, in on their inside secret. It's light, and funny, a nice contrast to some of the heavier fare that comes out this time of year. I liked it!
---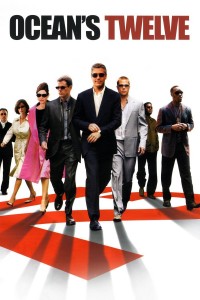 Ocean's Twelve
- -
---
---
Danny Ocean reunites with his old flame and the rest of his merry band of thieves in a caper concerning three huge heists in Rome, Paris and Amsterdam. But Europol agent Isabel Lahiri is hot on their heels.
Photos
Storyline
---
---
Details
Box Office
Company Credits
Technical Specs