No Country For Old Men
My Review:
No Country For Old Men is kind of beyond description.  It is definitely an original.  And it's not for everyone's tastes, this is not a "mainstream" movie.  It's not just violent, it's about violence – and the world that it is set in is a very violent world.  The cast is amazing – Josh Brolin, Tommy Lee Jones, Woody Harrelson, Javier Bardem.  It's hard to tell who is crazy and who is sane, who is "good" and who is "bad" – everyone has an agenda, and everyone has a gun.  Josh Brolin plays a guy who happens upon a drug deal gone bad, dead bodies, drugs, and a bunch of money.  He takes the money, then makes the mistake of returning to the scene right when some other bad guys come back.  This set into motion a crazy chase that goes on for much of the movie.  Javier Bardem is the worst, craziest, scariest one – he treats the whole thing like a game.
The tone is very dark, no music, very sparse settings and dialogue.  Interesting, creative, and  disturbing all at the same time.
---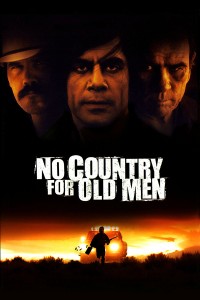 No Country for Old Men
- -
---
---
Llewelyn Moss stumbles upon dead bodies, $2 million and a hoard of heroin in a Texas desert, but methodical killer Anton Chigurh comes looking for it, with local sheriff Ed Tom Bell hot on his trail. The roles of prey and predator blur as the violent pursuit of money and justice collide.
Photos
Storyline
---
---
Details
Box Office
Company Credits
Technical Specs