Never Let Me Go
My Review:
Never Let Me Go is dark, haunting and mysterious – you can tell that even just by the previews.  You're not really sure what it's about, or what is going to happen.  But in this case, that's a good thing!  The movie is kind of science fiction/drama/romance.  The cast is amazing.  Carey Mulligan, Keira Knightley and Andrew Garfield star.  There really should be an Oscar category for casting directors. There are a set of younger actors that play the same characters as kids at school, and they are spot on, each one of them.
I don't want to give too much away, because that's the best part about the movie, guessing how it's going to unfold.  Just know that it's really worth seeing.  Beautiful performances, utterly original.
---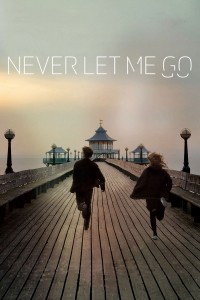 Never Let Me Go
- -
---
---
As children, Kathy, Ruth, and Tommy spend their childhood at an idyllic and secluded English boarding school. As they grow into adults, they must come to terms with the complexity and strength of their love for one another while also preparing for the haunting reality awaiting them.
Photos
Storyline
---
---
Details
Box Office
Company Credits
Technical Specs