Mr. Brooks
My Review:
Kevin Costner is back.  Maybe he didn't go anywhere, I just haven't seen him in anything lately – there was that movie with Ashton Kutcher that he did, something about rescuing people in the water… but I didn't see that.  Anyhow, this time he's playing a bad guy.  A REALLY bad guy.  The kind of bad guy who goes around looking like a good guy and everyone thinks he's just this normal businessman, active in the community, with a nice home, pretty wife, sweet daughter.  But no, this guy has an addiction, a secret addiction… to killing!  Yikes!  You'd think that would be a hard secret to keep, but somehow Mr. Brooks manages to get away with it.  That is, until he gets a little sloppy and someone watches him during one of his episodes.  But then, that guy is pretty much a bad guy, too, so he's in luck, and doesn't get turned in.
When the sweet daughter comes home from college, under suspicious circumstances, Mr. Brooks has some hard choices to make.  But, since this is a movie, and the story is propelled by drama, he makes all the wrong choices.
Demi Moore is the detective who is on his trail, but who can't get more than one step behind him.  She's going through a nasty divorce, to another guy who is bad in a different way – makes you wonder if there are any good guys in the movie?  I guess the wife (Marg Helgenberger) is good, but with all this going on behind her back she has to be pretty stupid.
Some very violent scenes – this is a HARD R.  Not for teens… not really even for adults unless you like blood and gore – more a horror movie than a thriller.
---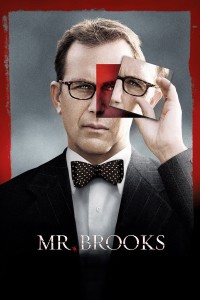 Mr. Brooks
- -
---
---
A psychological thriller about a man who is sometimes controlled by his murder-and-mayhem-loving alter ego.
Photos
Storyline
---
---
Details
Box Office
Company Credits
Technical Specs