Miss Pettigrew Lives for a Day
My Review:
The always-wonderful Frances McDormand plays Miss Pettigrew, a down on her luck nanny without a job.  She stumbles her way into an interview, and ends up spending the day as a social secretary.  Amy Adams, hot off of "Enchanted," plays Delysia LaFosse, an aspiring actress/socialite in London at the beginning of World War 2. The two need each other, and end up helping each other.
Sweet, lovely, fun, whimsical.  Loved it!
---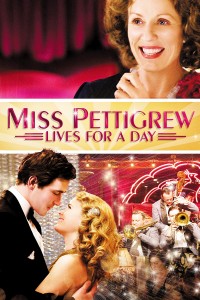 Miss Pettigrew Lives for a Day
- -
---
---
Guinevere Pettigrew, a middle-aged London governess, finds herself unfairly dismissed from her job. An attempt to gain new employment catapults her into the glamorous world and dizzying social whirl of an American actress and singer, Delysia Lafosse.
Photos
Storyline
---
---
Details
Box Office
Company Credits
Technical Specs