Million Dollar Baby
My Review:
Clint Eastwood is back on my good list. The past few movies of his that I've seen have had him cast as the romantic leading man opposite some beautiful, much-younger girl. It was a little unsettling. I kept thinking: this guy needs to act his age! Well, guess what? In "Million Dollar Baby" he does! And he is SO good! Not only does he star in this remarkable film, he directs it, too. And he writes the music! Wow. Good for you, Clint!
Set in the world of professional boxing, this is really a movie about relationships. First you've got the bickering husband and wife type of relationship between best buddies Clint and his right-hand-man at the boxing gym, the always-amazing Morgan Freeman. If I have any constructive criticism for these two if would be to enunciate a little more, please. They both have this gruff, kind of under-the-breath mumble that made some of the dialogue difficult to interpret.
Hilary Swank – (gotta love her!) – comes into their lives as a scrappy young thing with ambitions of becoming a professional wrestler. Maybe not so young, at age 31 she is deemed too old to embark on such a career. Clint initially blows her off, but her persistence pays off and she eventually wins him over. They begin a manager/trainee, mentor/mentee, shadowed by a father/daughter type of relationship. They have to trust each other. We're left wondering why his real daughter keeps returning his letters unopened – and why he goes to mass to pray everyday. This is a man with a past, but his new protégé sees him for who he is today, and that gives new meaning to his life.
It's no surprise that Hilary Swank won for Best Actress in a drama at the Golden Globes this year. Her performance is riveting. She totally embodies this character, and this is a tough part to play. Physically and emotionally very demanding. And our buddy Clint went home with the Golden Globe for Best Director for a drama! He deserves it. There is definitely a tone set which makes "Million Dollar Baby" a classic. In a time where we are subjected to remakes, sequels, and excessive violence, this movie stands on its own as truly original. It's a filmmaker's film. You really care for these people, and get caught up in their lives. Well done.
By the way, Hilary Swank is also nominated for a Screen Actors Guild Award for this performance, and the cast of "Million Dollar Baby" is nominated for their ensemble performance.
---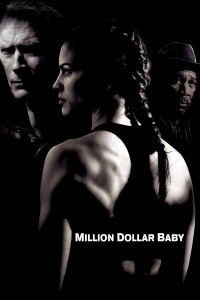 Million Dollar Baby
- -
---
---
Despondent over a painful estrangement from his daughter, trainer Frankie Dunn isn't prepared for boxer Maggie Fitzgerald to enter his life. But Maggie's determined to go pro and to convince Dunn and his cohort to help her.
Photos
Storyline
---
---
Details
Box Office
Company Credits
Technical Specs