Million Dollar Arm
My Review:
In this real-life story set in 2008, J.B. Bernstein (Jon Hamm) is a sports agent who desperately needs a star to keep his agency going. When things don't work out with a current star who ends up signing with someone else, JB and his buddy decide to create a star or two. J.B. goes to India with the intent to produce a reality show where Cricket players compete for a chance to be a Major League Baseball pitcher.
This is definitely an underdog story, a fish-out-of-water story, and a story of personal transformation for more than one character. I loved it!
Also stars Alan Arkin, Lake Bell, and Suraj Sharma.
---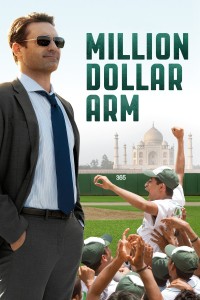 Million Dollar Arm
- -
---
---
In a last-ditch effort to save his career, sports agent JB Bernstein (Jon Hamm) dreams up a wild game plan to find Major League Baseball's next great pitcher from a pool of cricket players in India. He soon discovers two young men who can throw a fastball but know nothing about the game of baseball. Or America. It's an incredible and touching journey that will change them all — especially JB, who learns valuable lessons about teamwork, commitment and family.
Photos
Storyline
---
---
Details
Box Office
Company Credits
Technical Specs