March of the Penguins
My Review:
"March of the Penguins" is already the second highest-grossing documentary feature, second only to "Fahrenheit 9/11." And this movie is rated G – it's a wonderful movie for the whole family! How refreshing! It was originally a french film, and the U.S. distributor added a new script with narration by Morgan Freeman. We never see any people, although we know they must be there because the shots are absolutely incredible. I don't know how they got so close to those penguins to really capture their emotions. And it is emotional – it's moving, touching, tragic and sweet. And it's inspirational! These penguins are not actors – but they are some of the more amazing characters you'll ever see. They're full of heart, compassion – there are so many moments where they seem human. There are characters in the movie that we can each relate to. This movie is a real treat. Highly recommended!
---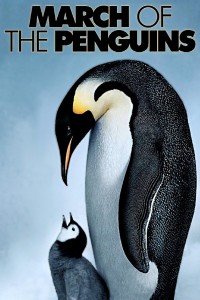 March of the Penguins
- -
---
---
Every year, thousands of Antartica's emperor penguins make an astonishing journey to breed their young. They walk, marching day and night in single file 70 miles into the darkest, driest and coldest continent on Earth. Morgan Freeman narrates this amazing tale, Breathtaking photography captures the transcendaent beauty and staggering drama, so follow the leader.. to adventure!
Photos
Storyline
---
---
Details
Box Office
Company Credits
Technical Specs