Mao's Last Dancer
My Review:
Loved it.  Mao's Last Dancer is a true story set in both China and the U.S.  A young boy from China basically gets drafted into the Beijing Ballet in service to his country.  He's feisty and determined.  A representative from the Houston Ballet invites him to the U.S. to study and his life changes dramatically as his eyes are opened to the many possibilities all around him.
The dancing is beautiful, the emotions right there. We grow to love these characters and care deeply about what happens to them, and the stakes are high.  Thought provoking, conversation inducing – this is a little movie that can make a big difference.  See it.
---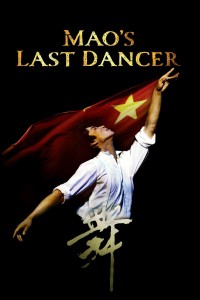 Mao's Last Dancer
- -
---
---
At the age of 11, Li was plucked from a poor Chinese village by Madame Mao's cultural delegates and taken to Beijing to study ballet. In 1979, during a cultural exchange to Texas, he fell in love with an American woman. Two years later, he managed to defect and went on to perform as a principal dancer for the Houston Ballet and as a principal artist with the Australian Ballet.
Photos
Storyline
---
---
Details
Box Office
Company Credits
Technical Specs