Mama Mia
My Review:
I've seen the stage show of Mama Mia and I loved it – and I loved the movie even more!  With the movie you get the bonus of beautiful locations including the Greek sea, and a charming inn.  Of course all the great ABBA songs are in there, performed with gusto by Hollywood stars we never knew could sing!  We first see Sophie, (Amanda Seyfried) as she greets her friends who have arrived for her wedding.  Sophie and her mother, Donna (Meryl Streep) own and run a little hotel.  The place is colorful and warm, but falling apart.  The two women clearly need some help, but they manage fine on their own.
Sophie has read her mother's old diary and discovered that she has three possible fathers.  She decides to secretly invite each of the men to figure out which one is her dad.  And they all show up, all at the same time! Pierce Brosnan, Colin Firth and Stellan Skarsgaard play the three confused gentlemen who hold their own in the song and dance department.    Also at the hotel for the wedding are Donna's two BFFs, her former back-up singers (Christine Baranski and Julie Walters).
This is fun summer fare, the kind of "take me away" movie we all need given the heavy alternatives we have to deal with.  It's like a little Greek vacation.  You'll walk away with a smile on your face and an ABBA song in your heart!
---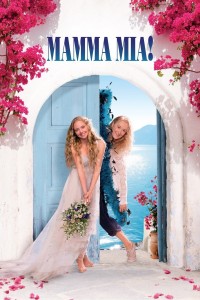 Mamma Mia!
- -
---
---
Set on an idyllic Greek island, the plot serves as a background for a wealth of ABBA hit songs. Donna, an independent, single mother who owns a small hotel on the island is about to let go of Sophie, the spirited young daughter she's raised alone. But Sophie has secretly invited three of her mother's ex-lovers in the hopes of finding her father.
Photos
Storyline
---
---
Details
Box Office
Company Credits
Technical Specs