Made of Honor
My Review:
Made of Honor is a pretty standard romantic comedy.  It's basically the same story as "My Best Friend's Wedding" with a different ending.  The twist is that the "maid" in question is the male best friend, Tom, played by Patrick Dempsey to the bride, Hannah, played by Michelle Monaghan.  Tom and Hannah meet cute in college when he accidentally creeps into her dorm room bed expecting a rendezvous with her drunk roommate.  They don't hook up then, but get to be close friends.  Tom retains his lothario ways over the years, and it looks like Hannah has a little crush on him.
Chronologically, Michelle Monaghan is just the right age for her character, almost 30.  But I don't buy Patrick Dempsey as 32.  I felt he was a little too old for the role.  But they could have changed the script just a little bit to have it make more sense – I don't know why they didn't.
Anyhow, Hannah goes to Scotland on business for six weeks and during this time Tom wakes up to the fact that they are meant to be together.  Unfortunately for him, Hannah comes back engaged to a handsome, rich, sweet Scottish man who has swept her off her feet.  Since Tom is her best friend, Hannah asks him to be her maid of honor.  He reluctantly accepts, thinking he can win her over in the process.  With the help of his buddies, Tom has a plan.  Hilarity ensues.  Nice location shots in Scotland, some over-the-top humor, and an appropriately happy ending.
---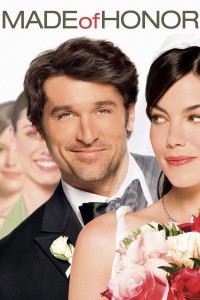 Made of Honor
- -
---
---
Tom and Hannah have been platonic friends for 10 years. He's a serial dater, while she wants marriage but hasn't found Mr. Right. Just as Tom is starting to think that he is relationship material after all, Hannah gets engaged. When she asks Tom to be her "maid" of honor, he reluctantly agrees just so he can attempt to stop the wedding and woo her.
Photos
Storyline
---
---
Details
Box Office
Company Credits
Technical Specs