Madagascar
My Review:
Madagascar is the new animated feature from Dreamworks SKG Animation. Starring the voices of Ben Stiller as Alex the Lion, Chris Rock as Marty the Zebra, David Schwimmer as Melvin the Giraffe and Jada Pinkett Smith as Gloria the Hippo. This is a buddy movie, a road trip, really, that starts out at the NY zoo and ends up in the wilds of Madagascar. Many of the jokes are sophisticated enough that parents will enjoy the film with their kids. I laughed the most when the group landed in Madagascar and thought they were in San Diego!
The animation is good – not quite as good as Pixar's. And the story is cute – not nearly as layered or deep as Pixar's. But it's a cute movie for a hot afternoon when you need something to do with the kids. I'd say age 5 or 6 and up. There was a little girl sitting next to me, she must have been 3 or 4, and she cried when the lion started to go "bad," seeing his friends as dinner when he got hungry in the wild. Kids that young don't understand nuances. They just see this cute and cuddly lion that they've grown to love suddenly turn mean and that scares them.
---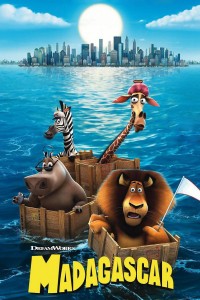 Madagascar
- -
---
---
Zoo animals leave the comforts of man-made habitats for exotic adventure in this animated family film. After escaping from the zoo, four friends -- a lion, a hippo, a zebra and a giraffe -- are sent back to Africa. When their ship capsizes, stranding them on Madagascar, an island populated by crazy critters, the pals must adapt to jungle life and their new roles as wild animals.
Photos
Storyline
---
---
Details
Box Office
Company Credits
Technical Specs