Lucky Number Slevin
My Review:
Josh Hartnett… quite the heartthrob!  I saw him on Jay Leno one time when we went to a live taping.  He was promoting the movie "O" in which he played a high school kid.  He's all grown up now, and quite the hunk.  A very good actor, too, by the way!  Slevin is a great role for him.  He gets to be smart and sassy and cool and vulnerable all at the same time.
The whole story reminded me of something Quentin Tarantino would do – you've got two bad guys feuding, and then this Slevin is put in the middle of the action, throw in Bruce Willis' mysterious stranger for more intrigue, and a cute Lucy Liu for love interest.  Not bad, just not totally compelling. Some violence, but more a guessing game than anything.  Appropriately quirky and offbeat.  Teens might like it – especially girls who want to see Josh running around in a towel.
---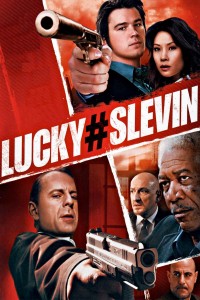 Lucky Number Slevin
- -
---
---
Slevin is mistakenly put in the middle of a personal war between the city's biggest criminal bosses. Under constant watch, Slevin must try not to get killed by an infamous assassin and come up with an idea of how to get out of his current dilemma. A film with many twists and turns.
Photos
Storyline
---
---
Details
Box Office
Company Credits
Technical Specs