Love and Other Drugs
My Review:
Love and Other Drugs is a romantic comedy with lots of heart.  Jake Gyllenhall plays Jamie, an ambitious pharmaceutical rep who after lots of determination gets the Viagra account finally finds the success that has alluded him.  Anne Hathaway plays Maggie, a free-spirited young woman who is struggling with early onset Parkinson's disease.  They meet cute and sparks fly.  Their chemistry jumps off the screen.  The conflict in their relationship is the illness.  Can the playboy commit?  Can the free spirit allow someone to be close to her?  The story has us hooked, there's nothing like love!
---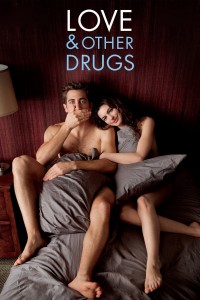 Love & Other Drugs
- -
---
---
Maggie, an alluring free spirit who won't let anyone - or anything - tie her down. But she meets her match in Jamie, whose relentless and nearly infallible charm serve him well with the ladies and in the cutthroat world of pharmaceutical sales. Maggie and Jamie's evolving relationship takes them both by surprise, as they find themselves under the influence of the ultimate drug: love.
Photos
Storyline
---
---
Details
Box Office
Company Credits
Technical Specs