Little Miss Sunshine
My Review:
Loved it!  What can I say?  I haven't laughed so much in a movie in a long time.  Wonderful script, brilliant characters, so much charm and warmth – and fabulous acting!  What more could you ask for?  Everyone who has a family will be able to recognize at least one of these characters.  The title "Little Miss Sunshine" refers to the beauty pageant that little Olive has gotten herself a place in as a contestant.  To get there, the family must take a road trip, driving from Albuquerque to Redondo Beach in their run down VW bus.  It would seem like spending so much "quality" time trapped together would be enough to drive them over the edge, but in this case it's just what they need.  There are some painful realities that must be faced, but as they do so they learn a lot about themselves, and each other.  Greg Kinnear, Toni Collette, Steve Carell.
---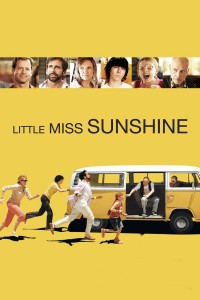 Little Miss Sunshine
- -
---
---
Little Miss Sunshine is a comedy about a family of six who are all having a mental breakdown at the same time. To ease their mental lows they decide to take a cross country road trip to a "Little Miss Sunshine" contest that their daughter has qualified for. An Academy Award winning comedy with memorable performances from its all actors.
Photos
Storyline
---
---
Details
Box Office
Company Credits
Technical Specs