Life of Pi
My Review:
Director Ang Lee's adaptation of Yann Martel's novel "Life of Pi" is nothing short of magnificent.

When a young man (played brilliantly by Suraj Sharma) survives a disaster at sea, he is hurtled into an epic journey of adventure and discovery. While cast away, he forms an unexpected connection with another survivor: a fearsome Bengal tiger named Richard Parker.
The cinematography is beautiful, and it stands out even more so in 3D.  It's a simple story, really, and told so well.  Utterly original, and deeply moving.  I loved it!
---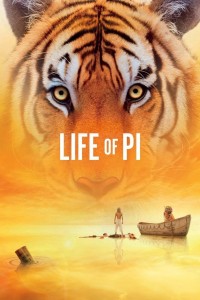 Life of Pi
- -
---
---
The story of an Indian boy named Pi, a zookeeper's son who finds himself in the company of a hyena, zebra, orangutan, and a Bengal tiger after a shipwreck sets them adrift in the Pacific Ocean.
Photos
Storyline
---
---
Details
Box Office
Company Credits
Technical Specs