Les Miserables
My Review:
Wow!  Les Miserables totally blew me away.  I loved the stage play – and I had high hopes for the film, and my expectations were exceeded.
Hugh Jackman deserves an award nomination or two or three for his role as Jean Valjean, the former prisoner who turns himself into a model citizen.  This is probably one of the toughest roles in all the musical plays, in part because it's both physically and vocally challenging.  Hugh doesn't let us down.  He's totally amazing!
Russell Crowe is a little out of his league vocally for the part of Javert, the policeman who becomes Valjean's nemesis.  But his acting works for the part, and the relationship between the two men is intense and believable.
Anne Hathaway takes on the role of Fantine, and she is exquisitely fragile and vulnerable.  And her voice is a huge surprise – just beautiful!  Her rendition of "I Dreamed a Dream" is a show stopper.
Helena Bonham Carter and Sacha Baron Cohen provide comic relief as the innkeepers who are supposed to be taking care of Fantine's daughter, Cosette.
The rest of the cast is fantastic – notably Samantha Barks as Eponine – I think we'll be seeing a lot more from this girl!
Director Tom Hooper had the actors sing in real time on set rather than looping in their voices in post production.  This was a big risk, and it paid off – it makes the movie very gritty and real.  We're invested in the characters all the more because their emotions show up right there in the moment.  It's perfect.
All in all, I think Les Mis was one of my very favorite movies of 2012.  A must-see!
---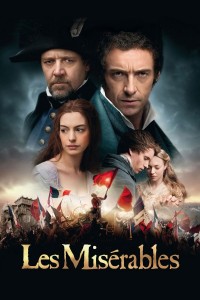 Les Misérables
- -
---
---
An adaptation of the successful stage musical based on Victor Hugo's classic novel set in 19th-century France, in which a paroled prisoner named Jean Valjean seeks redemption.
Photos
Storyline
---
---
Details
Box Office
Company Credits
Technical Specs