Leatherheads
My Review:
Leatherheads stars George Clooney, Renee Zellweger and John Krasinski.  The name comes from the leather helmets that football players used to wear back in the day before the NFL, when the sport was just getting started.  These are the days when alcohol was illegal and working women were rare.  Renee is a smart and sassy reporter ala Barbara Stanwyk to George's charming and clever con man/football star.  George wants pro football to enjoy the same success that college football has, so he recruits a college star, the Office's John Krasinski, to help get ticket sales up.  It works, and maybe too well.  George and Renee have a cute banter going on, a throw-back to those snappy "His Girl Friday" type of movies from the '40s.
Leatherheads works best when it is in romantic comedy mode.  When it gets into slapstick, it feels silly.  Great date movie.  Really fun to watch.
---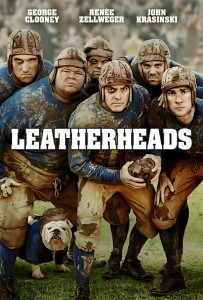 Leatherheads
- -
---
---
A light hearted comedy about the beginnings of Professional American Football. When a decorated war hero and college all star is tempted into playing professional football. Everyone see the chance to make some big money, but when a reporter digs up some dirt on the war hero... everyone could lose out.
Photos
Storyline
---
---
Details
Box Office
Company Credits
Technical Specs