Kinsey
My Review:
Well, things certainly were different in the 40's and 50's. This movie, which takes place during that time, never could have been made back then! And it looks like we owe this "progress" at least in part, to the work of Alfred Kinsey. The movie Kinsey is a fascinating character study. Liam Neeson portrays the title character in this film, based on true events. A really wonderful performance, giving us insight into this man's persona. Laura Linney plays his wife – this actress has got to be the new Meryl Streep – she is so good in every part she plays.
The theme, of course, is sex. And the characters talk about it, study it, teach it, and actually practice it themselves, amongst themselves. Strong supporting performances by Peter Saarsgard, Timothy Hutton, Chris O'Connell and John Lithgow.
---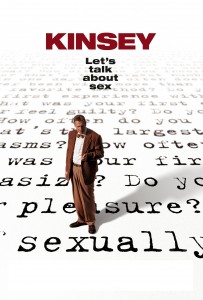 Kinsey
- -
---
---
Kinsey is a portrait of researcher Alfred Kinsey, driven to uncover the most private secrets of a nation. What begins for Kinsey as a scientific endeavor soon takes on an intensely personal relevance, ultimately becoming an unexpected journey into the mystery of human behavior.
Photos
Storyline
---
---
Details
Box Office
Company Credits
Technical Specs