Jindabyne
My Review:
As members of Australians in Film my husband (the Aussie in the family) were lucky enough to see Jindabyne at a special pre-release screening. This is a very interesting, thought-provoking, conversation-stimulating movie.  Australian made, and set in the small Australian town of Jindabyne in South-East New South Wales, Jindabyne looks at how a lurking evil infests a community, and the affect that it has on the people and their relationships.
Gabriel Byrne has the lead role, a gas station owner caught in the midst of mid-life, a strained marriage and an anxious little boy.  His sole source of recreation and decompression is fishing, his passion.  When out on a long-awaited trip with his buddies, he comes across a body.  And that's when his troubles really begin.
Moral dillema, how to handle the situation.  The choices the men make in the moments that follow greatly affect their future and how they are viewed by the people in their town.  It sets up a racial divide, and a gender divide, as each family member experiences the fall-out.
Laura Linney, one of the best actresses of our generation, I really think she is as good as Meryl Streep but she just doesn't get the credit she deserves.
Gabriel Byrne was gracious enough to talk about the filming of Jindabyne.  He is brilliant, and his insights were fascinating.
I can always tell a movie is good when we talk about it all the way home, and with Jindabyne, that's what we did.
---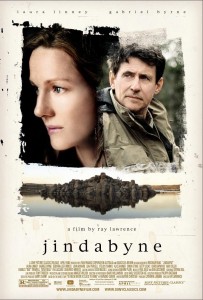 Jindabyne
- -
---
---
Stewart Kane, an Irishman living in the Australian town of Jindabyne, is on a fishing trip in isolated hill country with three other men when they discover the body of a murdered girl in the river. Rather than return to the town immediately, they continue fishing and report their gruesome find days later. The story of a murder and a marriage - a film about the things that haunt us.
Photos
Storyline
---
---
Details
Box Office
Company Credits
Technical Specs