Jersey Boys
My Review:
Jersey Boys, directed by Clint Eastwood, is a movie based on the stage play, based on the real life story of Frankie Valli and The Four Seasons. The Four Seasons had multiple hits in the 1960's. The four Jersey boys who made up the group were from the wrong side of the tracks, as they say, and managed to make it big time in the recording industry. But fame was not without a cost.
Loved the music, of course, but also loved seeing "behind the scenes" into the lives of these guys, and how the whole music industry was changing during that time in history.
Also loved a quick "wink" to the audience – a glimpse of Clint himself appearing in one of his TV shows from that era. And a nice cameo by Clint's daughter as well.
---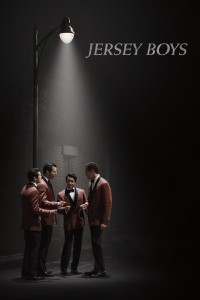 Jersey Boys
- -
---
---
From director Clint Eastwood comes the big-screen version of the Tony Award-winning musical Jersey Boys. The film tells the story of four young men from the wrong side of the tracks in New Jersey who came together to form the iconic 1960s rock group The Four Seasons. The story of their trials and triumphs are accompanied by the songs that influenced a generation, including "Sherry," "Big Girls Don't Cry," "Walk Like a Man," "Rag Doll," and many more.
Photos
Storyline
---
Details
Box Office
Company Credits
Technical Specs