Iron Man
My Review:
Another big hit from Marvel!  Iron Man is a character straight out of their comic book series – and this movie takes the best of the book, adds a contemporary twist, and puts it up on the big screen.
Robert Downey Jr. has the title role.  His alter ego, weapons specialist and technological genius Tony Stark is kidnapped by war terrorists and forced to re-create one of his super-weapons.  Smart guy that he is, he makes up an iron suit and explodes his way to freedom.  I have always loved Robert Downey Jr. as an actor and it is so great to see him in a role like this where he can really shine.
Back home, pretty assistant Pepper Potts (Gwyneth Paltrow slumming it in a supporting role) has newfound meaning in Tony's life.  Tony's mentor, a creepy looking bald Jeff Daniels, ends up having ulterior motives.
Great dialog, strong characters and lots of action.  Maybe too much cartoonish action when two Iron Mans get to battling it out.
No surprise that the movie pulled in over $100 million its first weekend and is already slated for a sequel.
---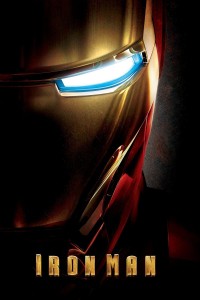 Iron Man
- -
---
---
Tony Stark. Genius, billionaire, playboy, philanthropist. Son of legendary inventor and weapons contractor Howard Stark. When Tony Stark is assigned to give a weapons presentation to an Iraqi unit led by Lt. Col. James Rhodes, he's given a ride on enemy lines. That ride ends badly when Stark's Humvee that he's riding in is attacked by enemy combatants. He survives - barely - with a chest full of shrapnel and a car battery attached to his heart. In order to survive he comes up with a way to miniaturize the battery and figures out that the battery can power something else. Thus Iron Man is born. He uses the primitive device to escape from the cave in Iraq. Once back home, he then begins work on perfecting the Iron Man suit. But the man who was put in charge of Stark Industries has plans of his own to take over Tony's technology for other matters.
Photos
Storyline
---
---
Details
Box Office
Company Credits
Technical Specs