Indiana Jones and the Kingdom of the Crystal Skull
My Review:
This newest Indiana Jones is not just a throwback to the action movies of the '50s – it's also a throwback to the first Indiana Jones movies which came out almost 20 years ago!  Harrison Ford in the title role is just as good.  Karen Allen reprises her role as love interest and they take up right where they left off.  Shia LeBeof comes in as Indy's long lost son and does a terrific job.  The movie is campy, fun and fast-paced with lots of humor and plenty of action.
---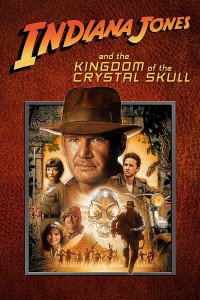 Indiana Jones and the Kingdom of the Crystal Skull
- -
---
---
During the Cold War, Soviet agents watch Professor Henry Jones when a young man brings him a coded message from an aged, demented colleague, Henry Oxley. Led by the brilliant Irina Spalko, the Soviets tail Jones and the young man, Mutt, to Peru. With Oxley's code, they find a legendary skull made of a single piece of quartz. If Jones can deliver the skull to its rightful place, all may be well; but if Irina takes it to its origin, she'll gain powers that could endanger the West. Aging professor and young buck join forces with a woman from Jones's past to face the dangers of the jungle, Russia, and the supernatural.
Photos
Storyline
---
---
Details
Box Office
Company Credits
Technical Specs