In Good Company
My Review:
I wish there were more movies like this one. Good story, good acting, sweet messages – let's you leave with a good feeling.
"In Good Company" is a contemporary comedy/family drama which could very well be the story of many of us today. Dennis Quaid, one of my all-time favorite actors, stars as an aging advertising exec demoted to make room for a young corporate upstart. His life is pretty shaken up anyway, so he takes this news as just another challenge to tackle. His wife, the lovely Marg Helgenberger, is pregnant, and his two teenage daughters are going through their own dramas. Scarlett Johanssen is the older daughter, going off to follow her dreams, flying the nest for New York University. So there's the tuition to think about. Scarlett plays her own age for a change, and is just wonderful.
Topher Grace plays the young up-and coming corporate exec who is "being groomed" by the powers-that-be in the conglomerate that has taken over Quaid's firm. These two have wonderful chemistry. I've always liked Dennis Quaid, I think he is one of the more underrated actors of our generation, and he does a great job here. Topher is the kid on "That 70's Show" and he has got the chops! I expect him to be doing some great things in the future. His character is supposed to be the "whiz kid" but he can't get his personal life together. Things get complicated when Topher and Scarlett hook up. But then, life is complicated, anyway, right? I loved this movie!
---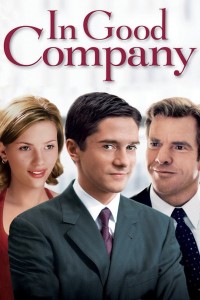 In Good Company
- -
---
---
Dan Foreman is a seasoned advertisement sales executive at a high-ranking publication when a corporate takeover results in him being placed under naive supervisor Carter Duryea, who is half his age. Matters are made worse when Dan's new supervisor becomes romantically involved with his daughter an 18 year-old college student Alex.
Photos
Storyline
---
---
Details
Box Office
Company Credits
Technical Specs