I'LL SEE YOU IN MY DREAMS
My Review:
By Vivian RhodesI had arrived at the movie theatre to see I'll See You in My Dreams fully expecting to see what was, at least for the most part, a funny or at least upbeat movie, based on the previews. A luminous Blythe Danner is cast in the role of Carol, a widow who finds herself grappling with the challenges that face many people, particularly women, in their twilight years.
Previews, however, can be misleading.  The film was, what is often referred to as, a "dramedy" and while it had touches of humor (particularly a scene in which Carol and her 70- something friends get high and develop the munchies, and one in which Carol takes a stab at speed dating) it was more poignant than funny. In fact, there were moments when the story takes a depressing turn.
The film begins on a sad note (this is hardly worth a spoiler alert since it occurs within the first 10 minutes of the movie) when Carol is forced to put down her beloved 14 year old dog.  The loss of that companionship highlights the fact that she now finds herself completely alone.  Widowed for 20 years, Carol has not dated in all that time.  Her daughter Katherine (Malin Akerman) lives miles away and Carol spends much of her time in the company of three close friends (Rhea Perlman, June Squibb, and Mary Kay Place, all of whom are equally well cast) golfing and playing cards.
(On a personal note, I enjoyed seeing the photo that sits on Carol's mantel; it is a photo of a young Carol and her late husband and is actually one of Blythe Danner and her late husband, director Bruce Paltrow, with whom I worked many years ago.  There is also a karaoke scene, which I suspect is a nod to the film Duets, which was directed by Bruce and which starred their daughter, Gwyneth.)
While some might find Carol's life enviable (she is after all, in apparent good health, has good friends, is great looking, and is financially secure) her sense of aloneness will resonate with most viewers.
In her quest to meet new people, she strikes up an unlikely friendship with her pool guy, Lloyd (Martin Starr) with whom, while consuming a lot of wine, she philosophizes about unfulfilled dreams.  Carol also develops a relationship with Bill (Sam Elliott,) an extremely handsome and charming man who is very attracted to her.
The story, written and directed by Brett Haley, unfolds as a series of sequences, examining the realities of life at a certain age, and the uncertainty of choices we've made in life.  Unlike The Great, Exotic, Marigold Hotel, which was geared towards a similar demographic and which tied things up neatly and offered viewers a satisfying ending, I'll See You in My Dreams takes a more realistic view of life.  Ultimately Carol comes to accept the importance of living life to the fullest and making the most of each day.
Filmed on a relatively low budget, I'll See You in My Dreams is a movie with some great insights and terrific acting, despite its sometimes melancholy tone.  Well worth seeing.
---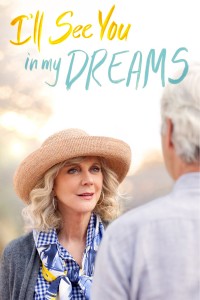 I'll See You in My Dreams
- -
---
---
A sudden loss disrupts Carol's orderly life, propelling her into the dating world for the first time in 20 years. Finally living in the present tense, she finds herself swept up in not one, but two unexpected relationships that challenge her assumptions about what it means to grow old.
Photos
Storyline
---
Details
Box Office
Company Credits
Technical Specs