I.O.U.S.A.
My Review:
As far as documentaries go, I.O.U.S.A. is not quite as exciting or funny as one of Michael Moore's films, but the impact is there anyway.  The main point of the movie is that the United States is in debt – big time – to the tune of around 45 TRILLION dollars.  The movie explains just how we got there.  As far as ways to get ourselves out of this mess, we need to be really aware of the leaders we elect, and also not get ourselves personally into debt.  Only spend what you have.  If there is one message that rings out loud and clear it is that: only spend what you have.
I think this movie should be required viewing for all high school and college students, and they are the ones who are inheriting this huge problem.
---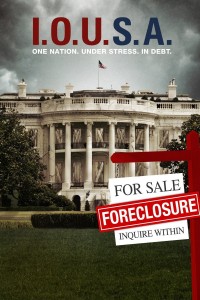 I.O.U.S.A.
- -
---
---
With the country's debt growing out of control, Americans by and large are unaware of the looming financial crisis. This documentary examines several of the ways America can get its economy back on the right track. In addition to looking at the federal deficit and trade deficit, the film also closely explores the challenges of funding national entitlement programs such as Social Security, Medicare and Medicaid.
Photos
Storyline
---
Details
Box Office
Company Credits
Technical Specs