Hope Springs
My Review:
Put Tommy Lee Jones together with Meryl Streep and you're bound to get movie magic.  In Hope Springs the two play a long-married couple who have fallen into the doldrums with their relationship.  In order to get things back on track, Meryl signs them up for a couple's retreat out of town.  Steve Carrell is their therapist, and it doesn't take much of a therapist to get to the heart of where these two have gone astray.
The performances are spot on, and the writing is strong – I think there are many people who will be able to relate to these two characters and their circumstances.  There are some poignant moments, and some funny moments, and some heartbreaking moments as well.  All in all a well-done, character driven dramedy.
---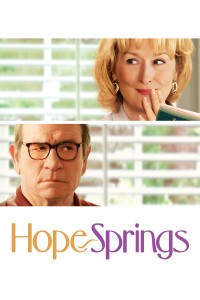 Hope Springs
- -
---
---
After thirty years of marriage, a middle-aged couple attends an intense, week-long counseling session to work on their relationship.
Photos
Storyline
---
---
Details
Box Office
Company Credits
Technical Specs