Home Song Stories
My Review:
This is the true story of Tony Ayres' life when he was 11 years old.  He and his sister immigrated from Hong Kong to Australia in the early 1970's when his mother married an Australian sailor.  Tony wrote and directed this very personal account of his very difficult period of time in his life.  Joan Chen plays his mother, and won an AFI award (the equivalent of the Aussie Academy Awards) for her portrayal.  The mother was beautiful, yet uneducated, and she relied on men to provide for her and her children.  She was impulsive, and unhappy – not a good combination.  She went from "Uncle" to "Uncle" as the children were to call her suitors, trying to make a life for her family.  And yet she was her own worst enemy, never quite satisfied, always striving for more.  She was mentally unstable, and attempted suicide several times before she finally succeeded.   Heartwrenching, honest, raw – we see it all through the eyes of this amazing little boy, torn between east and west in a world he is too young to fully understand.
---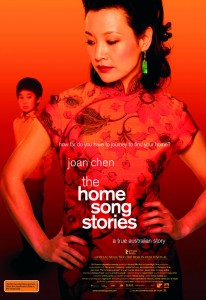 The Home Song Stories
- -
---
---
Tom, now in his 40s, begins to write the memoirs of his 1960s childhood, as the little boy whose mother Rose was a glamorous Shanghai nightclub singer. When Rose meets Aussie sailor Bill, they are quickly married, and she packs up Tom and his older sister May to head for Melbourne. The marriage just as quickly breaks up and Rose moves with the kids to Sydney. After a succession of male friends and little success, in 1971 Rose moves back to Melbourne, in an uncomfortable arrangement living again with Bill – and his mother. With Bill called away to sea, Rose takes up with young Chinese cook Joe, but despair and conflicts over May's relationship with Joe tear the family further apart. Little Tom is deeply hurt, but May's ongoing conflict with her mother takes a respite when Rose tells her daughter about her traumatic teenage years.
Photos
Storyline
---
---
Details
Box Office
Company Credits
Technical Specs