Henry Poole is Here
My Review:
Henry Poole is Here is one of my favorite movies of this year.  I just loved it.  Luke Wilson has the title role.  We know he's depressed, and as the movie goes on we gradually find out why.  Meanwhile, he's moved into a new neighborhood, and wants to be left alone – but his neighbors have other ideas.  When next door busybody Esperanza sees a deity appear on his new stucco job, she sends over the church to test the wall.  His other neighbor is a single mom (Radha Mitchell) dealing with a young daughter who is traumatized by her father's abandoning her and refusing to speak.
The stucco wall starts to become important to various people in the community, and Henry is right in the middle of the whole thing, exactly where he doesn't want to be.  But then, as everyone deals with their own issues, they start to learn from each other, and support each other, and discover things about themselves they never would have known.
This is a new genre for director Mark Pellington, who has done dark movies like Mothman Prophecies.  But the whole movie is so beautifully written, so meaningful, so moving – it's unexpected, and refreshing.  The cast is first-rate.
The movie was done on a total budget of $7 million – very small by Hollywood standards.  I hope that it finds its audience and becomes a sleeper hit the way Little Miss Sunshine did.  This is the kind of movie that we yearn for.  See it, you'll be so glad you did.
---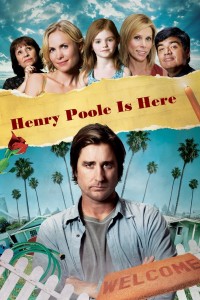 Henry Poole Is Here
- -
---
---
Henry Poole abandons his fiancée and family business to spend what he believes are his remaining days alone. The discovery of a "miracle" by a nosy neighbor ruptures his solitude and restores his faith in life.
Photos
Storyline
---
---
Details
Box Office
Company Credits
Technical Specs