Hellboy 2: The Golden Army
My Review:
Guillermo Del Toro, who directed Pan's Labyrinth, directed Hellboy.  The effects, the creatures, are all spectacular.  That is reason enough to see this movie.  But it also has a lot of heart.  There are some pretty powerful messages about getting along with others, and being true to yourself, and how we are all connected.  This is a fantastical world that Del Toro introduces us to, and one where we feel oddly at home.  The character of Hellboy, played by Ron Perlman, is totally relatable, he just wants to be loved.  The only downside for me is that there are several fight scenes – and they seem to go on and on and on.  But that's probably a plus for most of the males in the audience – teenage or otherwise.
---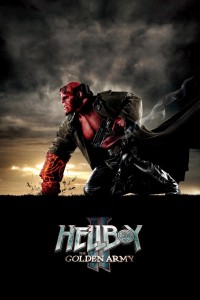 Hellboy II: The Golden Army
- -
---
---
In this continuation to the adventure of the demon superhero, an evil elf breaks an ancient pact between humans and creatures, as he declares war against humanity. He is on a mission to release The Golden Army, a deadly group of fighting machines that can destroy the human race. As Hell on Earth is ready to erupt, Hellboy and his crew set out to defeat the evil prince.
Photos
Storyline
---
---
Details
Box Office
Company Credits
Technical Specs