Harry Potter and the Deathly Hallows Part 2
My Review:
It's the finale! And what a finale it is. After 7 previous Harry Potter films we've seen these kids grow up, the action culminate and the loose ends all tie up nicely in a final story that helps it all to make sense.  You really have to be a Potter fan to enjoy this film – and if you are it is deeply satisfying.  I haven't read the books, but I've seen all of the movies.  The problem for me is remembering the previous storylines in between the films because they pretty much pick up where they left off.  It would be nice to have a little re-cap or something for us "old folks!"  But other than that – it's a worthwhile series, and a it has a cult-like following, hence the record-breaking box-office numbers!  I can see some Potter marathons coming now that they've wrapped it all up.
---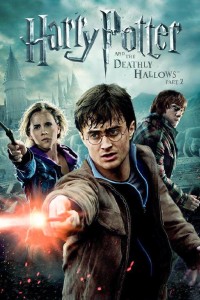 Harry Potter and the Deathly Hallows: Part 2
- -
---
---
In the second installment of the two-part conclusion, Harry and his best friends, Ron and Hermione, continue their quest to vanquish the evil Voldemort once and for all. Just as things begin to look hopeless for the young wizards, Harry discovers a trio of magical objects that endow him with powers to rival Voldemort's formidable skills.
Photos
Storyline
---
---
Details
Box Office
Company Credits
Technical Specs