Harry Potter and the Deathly Hallows Part 1
My Review:
I have not read the Harry Potter books, but I have seen all of the Harry Potter movies.  I think it would be easier to see all of the movies on consecutive days to remember everything.  If you're new to the Harry Potter series, you really need to start at the beginning, you can't come jumping in with The Deathly Hallows part 1 because there's so much back story you have to know for it all to make sense.  Since there's at least a year in between movies, it's understandable that only die-hard fans would be able to keep up with everything!
The movie is very well done, excellent effects, strong characters, amazing locations. And the actors have worked together, and grown up together throughout the series so they have a natural chemistry.  One standout for me is Helena Bonham Carter as the witch Bellatrix – she's so over the top campy, scary and fun!  Highly recommended if you are a HP fan or if you want to know how the whole thing is going to finally resolve.  We've got a lot invested in this series and it would be nice to see how it ends.  We'll have to stay tuned for Deathly Hallows Part 2!
---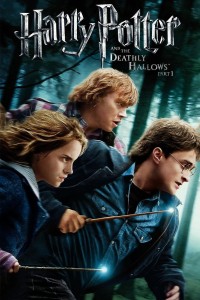 Harry Potter and the Deathly Hallows: Part 1
- -
---
---
The end begins as Harry, Ron, and Hermione walk away from their last year at Hogwarts to find and destroy the remaining Horcruxes, putting an end to Voldemort's bid for immortality. But with Harry's beloved Dumbledore dead and Voldemort's unscrupulous Death Eaters on the loose, the world is more dangerous than ever.
Photos
Storyline
---
---
Details
Box Office
Company Credits
Technical Specs