Hancock
My Review:
You can't go wrong with a Will Smith movie. Especially when it opens 4th of July weekend.  Hancock is no exception.  But in this film, Will Smith plays an entirely different character from the ones he has played before.  John Hancock is cynical, wounded, a lost soul who just happens to have super-hero powers.  He's also an amnesiac, and although he can perform these amazing physical feats, he can't seem to remember who he is or how he got here.
Having alienated much of Los Angeles with his antics, in comes savvy PR executive Jason Bateman to save the day, and Hancock's reputation.  An odd, but convenient, friendship is formed as Hancock begins to frequent Jason's home.  Charlize Theron plays Jason Bateman's wife,  who has her own reasons for wanting Hancock to keep his distance.
A fun movie with lots of humor, tons of special effects.  Another blockbuster for Smith, another summer movie for all of us!
---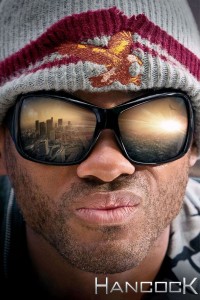 Hancock
- -
---
---
Hancock is a down-and-out superhero who's forced to employ a PR expert to help repair his image when the public grows weary of all the damage he's inflicted during his lifesaving heroics. The agent's idea of imprisoning the antihero to make the world miss him proves successful, but will Hancock stick to his new sense of purpose or slip back into old habits?
Photos
Storyline
---
---
Details
Box Office
Company Credits
Technical Specs