Hairspray
My Review:
My absolutely FAVORITE movie of the year so far!  Wow!  I couldn't stop smiling all through it –  I was tapping my toes, I wanted to get up in the aisles and dance!!!  This is my kind of movie.  I haven't seen the stage version, or the 1988 original film by John Waters, so I can't compare this new film to its predecessors, but I believe this Hairspray is destined to be a classic – I absolutely LOVE it!
I had my doubts about John Travolta in the role of Edna Turnblatt, but he is absolutely precious!  And Nikki Blonsky couldn't be better.  Zac Efron, who made a name for himself in High School Musical, is just darling.  Michelle Pfeiffer is a hoot.  James Marsden has the moves, and a GREAT voice – who'd have known?  He's so hot – always my favorite in the X-Men movies, this guy has talent!  And Queen Latifah – LOVE her, as always, she's just awesome.  Everyone is just really good.  The music is wonderful, the choreography is fantastic.  I hope to see this movie have lots and lots of nominations come awards time, because it deserves it.  The best part, you leave the theatre humming and smiling – and SO glad you had the experience.  Go see Hairspray!
---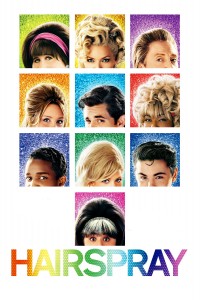 Hairspray
- -
---
---
Pleasantly plump teenager Tracy Turnblad and her best friend Penny Pingleton audition to be on The Corny Collins Show and Tracy wins. But when scheming Amber Von Tussle and her mother plot to destroy Tracy, it turns to chaos.
Photos
Storyline
---
---
Details
Box Office
Company Credits
Technical Specs