Going the Distance
My Review:
Romantic Comedy about a long distance romance.  Drew Barrymore is 31 years old and finishing up grad school and a 6 week summer internship in New York City when she meets dream boat Justin Long (Drew's real life boyfriend!) Even though they promise nothing serious, they fall in love, and agree to try the long distance thing while she finishes school in the San Francisco Bay Area.  Time goes by, and they overcome all kinds of challenges, and characters that threaten to break them up, until too much time goes by and they're at a cross-roads.
Christina Applegate plays Drew's big sister and the two of them are really darling together.  Justin has two obnoxious roommates who serve as comic relief whenever things get too intense, they're the kind of guys who just don't grow up, the kind of guy that Justin decides he doesn't want to be.
Sweet movie, nice take on modern day relationships. Rated R for a butt shot, sexual innuendo, language.
---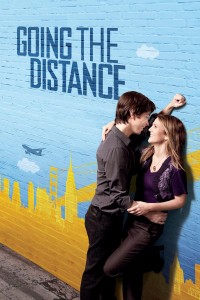 Going the Distance
- -
---
---
Erin and Garrett are very much in love. When Erin moves to San Francisco to finish her journalism degree and Garrett stays behind in New York to work in the music industry, they gamely keep the romance alive with webcams and frequent-flyer miles. But just when it seems the lovers will soon be reunited, they each score a big break that could separate them for good.
Photos
Storyline
---
---
Details
Box Office
Company Credits
Technical Specs