Frost/Nixon
My Review:
I was a young child when all of the Nixon Watergate fallout came into being.  It is interesting to take a look back at that time in history with some behind-the-scenes insight.  Frank Langella plays Nixon, and is likely to get a Best Actor nomination for his performance.  This is quite a character study, not an impersonation.  We get to see Nixon the man, with his bravado, and candor, and also his inner turmoil and insecurities.  The story is about how David Frost got the famous interviews with the former President, how they made it onto the air, and how the whole thing affected the American perception of this man, and the events that took place under his leadership.
Of course, since the movie is about an interview, there is a lot of dialogue.  There's no action or adventure, and no sex.  This is a thinking person's film – and one that will have people talking long after the movie is over.
---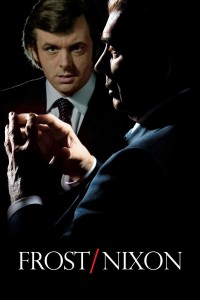 Frost/Nixon
- -
---
---
For three years after being forced from office, Nixon remained silent. But in summer 1977, the steely, cunning former commander-in-chief agreed to sit for one all-inclusive interview to confront the questions of his time in office and the Watergate scandal that ended his presidency. Nixon surprised everyone in selecting Frost as his televised confessor, intending to easily outfox the breezy British showman and secure a place in the hearts and minds of Americans. Likewise, Frost's team harboured doubts about their boss's ability to hold his own. But as the cameras rolled, a charged battle of wits resulted.
Photos
Storyline
---
---
Details
Box Office
Company Credits
Technical Specs