Fracture
My Review:
An intelligent thriller with intelligent performances by two of the best actors of their generations.  Fracture stars the mesmerizing Anthony Hopkins as cheated-on husband who cleverly devises a way to kill his wife and get away with it.  Ryan Gosling, who burst onto the scene in The Notebook and was nominated for an Academy Award this year for his performance in Full Nelson, is the district attorney assigned to prosecute the case.  Gosling's character, Willie, is smart, ambitious, and not just a little cocky, and takes what he thinks is a slam-dunk case as he's got his foot halfway out the door for a cushy corporate job.  Of course, nothing is as it seems, and the young upstart learns about his real ambition as he embarks on a mission to bring the killer to justice.
Well written.  I usually find holes everywhere but this story is really tight and well constructed.  Loved it!
---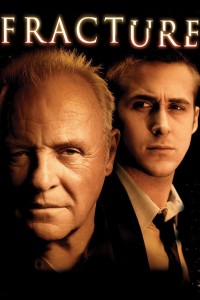 Fracture
- -
---
---
A husband is on trial for the attempted murder of his wife, in what is seemingly an open/shut case for the ambitious district attorney trying to put him away. However, there are surprises for both around every corner, and, as a suspenseful game of cat-and-mouse is played out, each must manipulate and outwit the other.
Photos
Storyline
---
---
Details
Box Office
Company Credits
Technical Specs