Forbidden Kingdom
My Review:
Forbidden Kingdom stars martial arts masters Jet Li and Jackie Chan.  This is a fanciful movie that is marketed as a martial arts film, but it's really a wonderful family film.  Of course there are plenty of amazing martial arts sequences, that is to be expected – but there's also a really nice story and strong, memorable characters.  We go between two worlds, almost like a "Wizard of Oz" element.  Our hero, Jason, learns and grows on this magical journey.  Jackie Chan brings his signature humor to his role.  Jet Li is charming in his role.  Love these guys!
---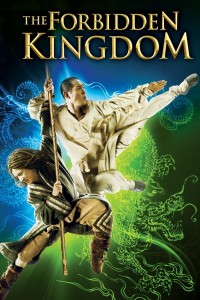 The Forbidden Kingdom
- -
---
---
An American teenager who is obsessed with Hong Kong cinema and kung-fu classics makes an extraordinary discovery in a Chinatown pawnshop: the legendary stick weapon of the Chinese sage and warrior, the Monkey King. With the lost relic in hand, the teenager unexpectedly finds himself travelling back to ancient China to join a crew of warriors from martial arts lore on a dangerous quest to free the imprisoned Monkey King.
Photos
Storyline
---
---
Details
Box Office
Company Credits
Technical Specs