Fool's Gold
My Review:
Matthew McConaughey and Kate Hudson re-team (the last time was "How to Lose a Guy in 10 Days") and have great chemistry in Fool's Gold.  It looks like a great romantic adventure, but unfortunately it falls short.  It's kind of "by the book" and predictable, even cartoonish at times.  All of the characters are big and outlandish, the situation they're in is hard to believe, and even more hard to follow given a long discourse of historical explanation.  The bad guys are these rapper-gangsters, very stereo-typed.  And then there's the rich yacht guy, Donald Sutherland, and his spoiled Paris Hilton-esque daughter.  Some of the treasure hunt is fun, and other parts are just too scary to fit in with the tone of the movie.
The setting is awesome.  It's supposed to be the Caribbean but it's actually Queensland, Australia.  It will make you want to take a vacation!  Absolutely beautiful water and beaches.
---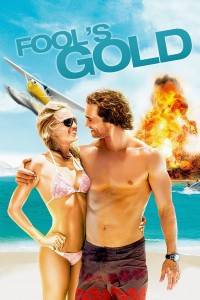 Fool's Gold
- -
---
---
Charming but luckless treasure hunter Ben Finnegan has sacrificed his relationship with his wife to search for the Queen's Dowry, a legendary treasure lost at sea. But the discovery of a new clue rekindles his hope for riches -- and his marriage.
Photos
Storyline
---
---
Details
Box Office
Company Credits
Technical Specs