Flight
My Review:
In my book, Denzel Washington can do no wrong.  He is an amazing actor, who has carried many films that just wouldn't have been the same with anyone else in the lead.  Flight is no exception. it's likely that Denzel will be nominated in the Best Actor category come award time.
We first meet Whip Whitaker (Denzel Washington) the morning after a hard night of drugs and drinking.  Then he shows up to work… as an airline pilot!  Despite his condition, and his co-workers doubts about his condition, he handles the job with aplomb.  It's clear he's done this before.  But then, disaster strikes, and it's up to Whip to save the day.  And he does.
The rest of the movie is the aftermath of such an unusual situation.  An investigation takes place, and Whip's credibility is in question.  The big question is, after saving all these people, can Whip manage to save himself?
Compelling drama, and first-rate acting.
---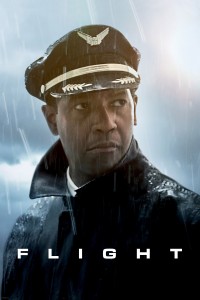 Flight
- -
---
---
Commercial airline pilot Whip Whitaker has a problem with drugs and alcohol, though so far he's managed to complete his flights safely. His luck runs out when a disastrous mechanical malfunction sends his plane hurtling toward the ground. Whip pulls off a miraculous crash-landing that results in only six lives lost. Shaken to the core, Whip vows to get sober -- but when the crash investigation exposes his addiction, he finds himself in an even worse situation.
Photos
Storyline
---
Details
Box Office
Company Credits
Technical Specs