Finding Neverland
My Review:
Wow. There is just so much good about this movie. The acting is wonderful. Johnny Depp is going to be the Marlon Brando of our generation, he's amazing. Depp plays playwright J.M. Barrie, and the movie is "inspired by true events" that led to the production of his play "Peter Pan." Kate Winslet is the single mother of 4 boys who comes into Barrie's life at a time when he needs to get back to the "play" and away from the serious. Julie Christie plays the overly critical grandmother to the hilt.
The set design is spectacular, such a fantasy. The music, everything, is just beautiful.
Although this film is rated PG, the ending might be hard for very young, or very sensitive, children to take. But I think this is a must-see for families with kids ages 10 and up. Or go without the kids and just enjoy it for yourself.
---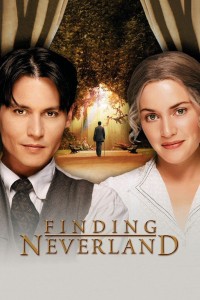 Finding Neverland
- -
---
---
Finding Neverland is an amusing drama about how the story of Peter Pan and Neverland came to be. During a writing slump play writer J.M. Barrie meets the widowed Sylvia and her three children who soon become an important part of Barrie's life and the inspiration that lead him to create his masterpiece "Peter Pan."
Photos
Storyline
---
---
Details
Box Office
Company Credits
Technical Specs