Fast Food Nation
My Review:
The title Fast Food Nation sounds like a comedy to me, and that's what I was expecting from othe previews.  But, be warned… it is NOT a comedy.  Far from it.  It's a tragedy.  It is a shame what is going on in the meat industry and it is remarkable that a movie like this could open people's eyes to how it operates.
The cast is amazing: Wilmer Valderamma is an undocumented worker from Mexico who takes a job cleaning at the meat packing plant.  Patricia Arquette is the single mom of a teen girl who works at a fast food  place.  Greg Kinnear is the whiz kid marketing exec who comes up with the ad campaign for the new "Big One" burger.  Bruce Willis comes in as the meat broker who turns a blind eye to the outrageous practices that the meat packers use to keep their prices down.  Ethan Hawke, Esai Morales, and others all contribute colorful characters.
This is a fictional piece, but it could be a documentary.  The scenes in the meat packing plant were difficult to watch.  Be prepared for lots of blood and guts, that's just what goes on there, and the point of the movie is to show us the truth behind the sterile "happy" packaging that makes up our fast food meals.  It's enough to turn you into a vegetarian.
---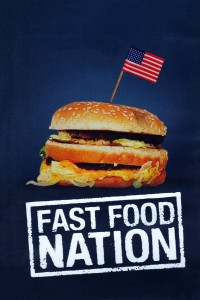 Fast Food Nation
- -
---
---
Inspired by author Eric Schlosser's New York Times best-seller of the same name, director Richard Linklater's ensemble drama examines the health issues and social consequences of America's love affair with fast food and features an all-star cast that includes Greg Kinnear, Ethan Hawke, Kris Kristofferson, Patricia Arquette, and Luis Guzman.
Photos
Storyline
---
---
Details
Box Office
Company Credits
Technical Specs