FAR FROM THE MADDING CROWD
My Review:
Admittedly, I have never been a particular fan of author, Thomas Hardy, having been forced to read his works when I was a college student. That having been said, I find the story Far From the Madding Crowd, set in Victorian England, to be more compelling than others by Hardy.
Briefly, it is the portrait of a proud and headstrong young woman, Bathsheba Everdene (Carrie Mulligan), who finds herself, thanks to a deceased uncle, the recipient of a rather huge inheritance.  Her lifestyle naturally changes, though her determination to be independent of men remains the same.  Throughout the film, Bathsheba attracts three suitors: Gabriel Oak, (Mathias Shoenaerts) a steadfast sheep farmer, Frank Troy (Tom Sturridge) a reckless sergeant, and William Boldwood (Michael Sheen) a prosperous and eligible bachelor. Her attractions and her involvement with all three of these men basically comprise the core of the movie.
This adaptation by director, Thomas Vinterberg, differs somewhat from the classic 1967 film which starred Julie Christie and Alan Bates.  For one thing, Christie as Bathsheba had more of an ethereal presence where Everdene's Bathsheba is decidedly more earthly.  It is always difficult to try to compete with a film that many consider a classic, but I think this was a good attempt.  While some have questioned the casting of Belgium actor, Shoenaerts, I found his acting to be quite effective.  Regardless of one's preference for the 1967 film or the 2015 film, Hardy's message still comes through, that of a woman trying to balance her desire for independence with emotions over which she sometimes seems not to be in control.
The pacing of the film, however, is slow and geared more to women who favor period pieces such as this. (To be fair, when I saw the film in the movie theater there were two men in the audience – though they both appeared to be accompanying their wives.)
Still, if you're a fan of Pride and Prejudice and Downton Abbey, then Far From the Madding Crowd might very well be your gently brewed cup of tea.
Out of five bags of popcorns, I'd give it three bags.
Have a great week and feel free to follow me on Twitter @VivianWrites.
---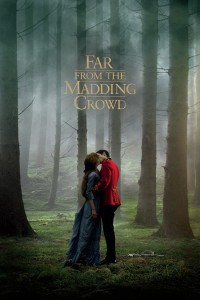 Far from the Madding Crowd
- -
---
---
A beautiful young woman maintains relationships with three very different men.
Photos
Storyline
---
Details
Box Office
Company Credits
Technical Specs