Evening
My Review:
What a cast – Vanessa Redgrave, Natasha Richardson (Vanessa's daughter!), Glenn Close, Meryl Streep, Mamie Gummer (Meryl's daughter!), Claire Danes, Toni Collette – this is a TOTAL chick flick!

  Evening is one of those movies that goes back and forth between present day and the past.  Vanessa Redgrave's character is on her death bed and she's having memories of this time in her life when she was young.  It's all about relationships and choices and friendships and family.  It's a really "big" movie in that there's a lot going on and you have to pay attention.  But it's also a little slow.  I loved it, but my hubby and my step-daughter were shifting in their seats quite a bit. Great clothes, lots of emotions, go with your mom or your girlfriends.
---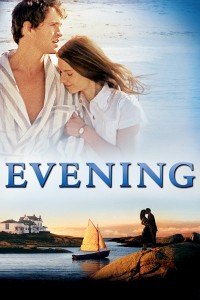 Evening
- -
---
---
As Constance (Natasha Richardson) and Nina (Toni Collette) gather at the deathbed of their mother, Ann (Vanessa Redgrave), they learn for the first time that their mother lived an entire other lifetime during one evening 50 years ago. In vivid flashbacks, the young Ann (Claire Daines) spends one night with a man named Harris (Patrick Wilson), who was the love of her life.
Photos
Storyline
---
Details
Box Office
Company Credits
Technical Specs